Living room or sitting room is a part of a house where people use for everyday use such as relaxing, entertaining guests and daily activities.
⬤

Pictures of living room objects
---
⬤

Word list of living room objects
armchair
curtain
lampshade
sofa
couch
bookcase
cushion
mantelpiece
carpet
fireplace
mantelpiece
cushion
light
painting
picture
bookshelf
television/TV
speakers
ceiling
fireplace
plant
wallpaper
coffee table
---
SIMILAR PAGES:
❯❯ Parts of a house
❯❯ Bedroom
❯❯ Kitchen vocabulary
❯❯ Bathroom
❯❯ Garden
❯❯ Dining room
⬤

Games
⬤ Flashcards
⬤ Flip cards
⬤

Living room vocabulary in context
⬤ Examples
What colour is your living room? – It is white.
Where do you watch TV? – I watch TV in the living room.
What are there in the living room? – There are sofas, cushions, an armchair, a picture and a TV.
⬤ Reading passage
Our living room is not big. We have just two sofas. One is next to the window and the other is next to the door. We also have a TV on the wall. We have a colourful carpet on the floor. The curtains are white. There is a TV in front of the armchair. My father usually watches the news there. There is a bookcase, too. I take books from the bookcase and read them on the sofa. Because the cushions on the sofa make me feel comfortable. I love our living room.
⬤

Living room vocabulary exercises
a)
b)
c)
d)
⬤

Worksheets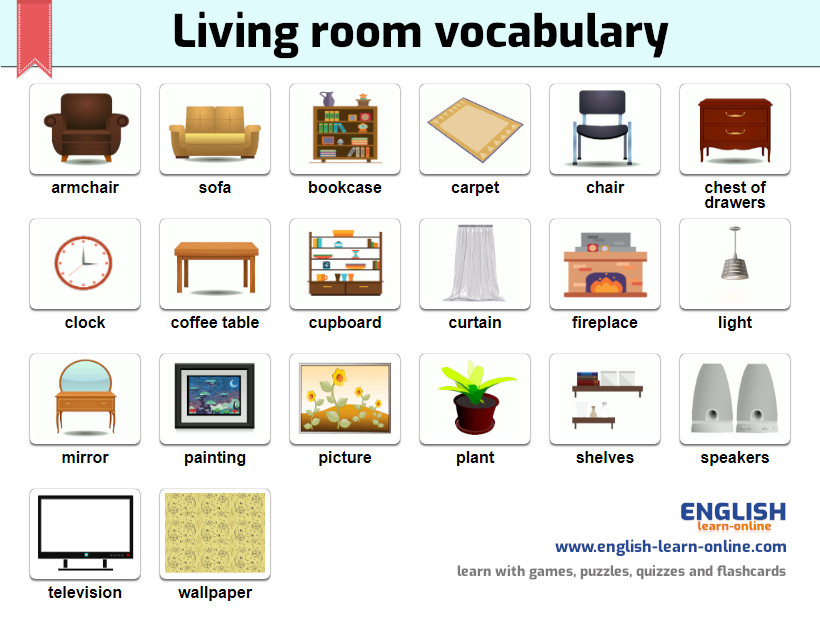 Living room worksheets

•

Living room word scramble game worksheet

•

Living room word search puzzle worksheet
External resource links:
You can also click here to watch a video.