Classroom objects vocabulary is the educational equipment and the things in a classroom. These can include stationery equipment, teaching materials and other school supplies. For instance, everybody should learn the classroom materials such as book, pencil, desk and eraser. It is a good idea to start learning these words for a better classroom communication. Especially the students should study school objects and related words while interacting with each other.
⬤

What are the names of classroom objects in English?
Some classroom objects are stationary objects such as pen, ruler, notebook. However some items belong to the school. For example blackboard, desks and maps. The other things such as windows, walls and and the door are the parts of the school building.
⬤

Classroom items pictures
---
⬤

Word list of classroom vocabulary
classroom
class
school bag
blackboard
book
book case
brush
calendar
chair
clock
crayon
desk
eraser
map
notebook
paper
pen
pencil
printer
ruler
school bag
pencil sharpener
dictionary
table
door
cellphone
folder
globe
glue
highlighter
pencil case
pen drive
stapler
wall
window
scissors
whiteboard
teacher's desk
teacher's table
computer
homework
DVD
CD
---
SIMILAR PAGES:
❯❯
Classroom language vocabulary
❯❯
School subjects vocabulary
❯❯
School and education vocabulary
❯❯
Office equipment vocabulary
⬤

Games for classroom objects
Gamification is a way of teaching vocabulary. Therefore students like games and activities in classroom environment. As a result we have designed some online games about classroom items here to help you practice while having fun.
⬤

Classroom objects flashcards
⬤

Flip cards
⬤

Classroom objects in context
This is a book.
These are my brushes.
It is my ruler.
This book is Andrea's.
Those are paper clips on the desk.
They are my crayons.
There is a notebook on my chair.
There are 20 desks in the classroom.
My schoolbag is red because it is my favourite colour.
I have got a blue and a yellow highlighter.
Is this a dictionary? – Yes, this is a dictionary.
Is that a paper? – Yes, that is a paper.
Is this a book? – No, this is nota book.
Is that your bag? – No, that is notmy bag. Is it a brush? – Yes, it is a brush. / No, it is not a brush. Are those rubbers? – Yes, those are rubbers. / No, those are not rubbers.
Reading passage:
This is my classroom and this is my desk. These are my books on the desk, but those are not my pencils. My pencils are pink. And this is my schoolbag. I have lots of things in my bag. I have a scissor, a sharpener, two pencils, a pen, an eraser and a
ruler in my bag. I have also three books and three notebooks in it. That is why it is heavy.
⬤

Classroom objects exercises
a)
b)
c)
d)
⬤

Classroom objects Worksheets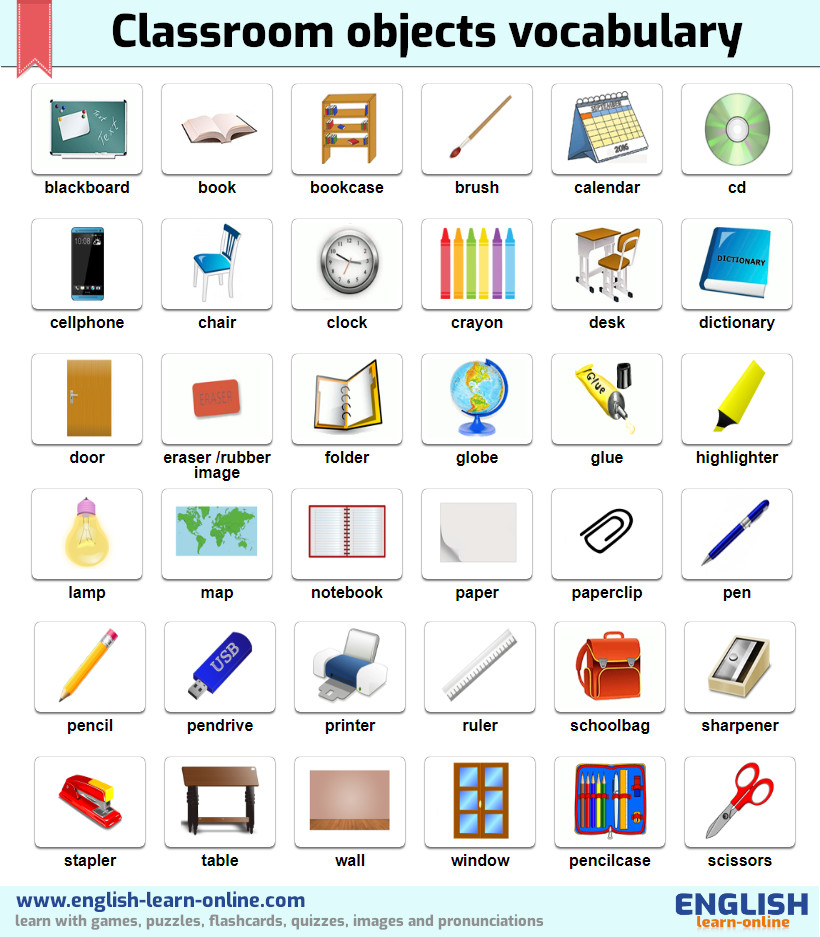 Classroom worksheets

•

Classroom objects flashcards worksheet

•

Classroom objects activity worksheet

•

Classroom objects word scramble game worksheet

•

Classroom objects word search puzzle worksheet
External resource links: You can also click here to watch a video about classroom objects or here to learn and practice in British Council website. You can also click here to download printable pdf document to learn classroom objects with flashcards.