Parts of the body is the structure of human anatomy especially the external organs. Similarly the physique of someone is considered as the overall form of the human external parts.
⬤

What are the parts of our body?
The parts of human body structure are called body parts. The three main parts are: the head, the trunk and the limbs (arms and legs). It can be divided into two categories: internal organs such as brain, lungs, hearth and external parts such as ears, eyes and skin.
The body consists of muscles and skeleton.
Cells with specific function are called organ. For example skin is also an organ and it wraps around our body. As a result it functions as protection, regulation and sensation.
The study of the human body involves branches such as anatomy (concerned with the bodily structure and separation of parts), physiology, histology (study of the microscopic structure of tissues) and embryology (study of embryos and their development).
The people who help or study on body health are called physiologists, anatomists, doctors and nurses.
Circulatory system, digestive system, musculoskeletal system and nervous system and some other systems are called body systems. They are groups of organs and tissues working together for particular functions of the body.
For further reading you can click

here to learn more

in WikiPedia
⬤

Body parts pictures and pronunciations
---
⬤

Human body vocabulary
head
body
hair
eye
mouth
tooth
teeth
knee
hand
face
ear
arm
finger
ankle
back
hip
beard
blood
bone
cheek
chest
chin
elbow
foot
feet
leg
lip
moustache
nail
neck
nose
shoulder
skin
stomach
teeth
throat
thumb
toe
tongue
wrist
---
SIMILAR PAGES:
❯❯ House parts vocabulary
❯❯ Computer parts vocabulary
❯❯ Face parts vocabulary
⬤

Human body image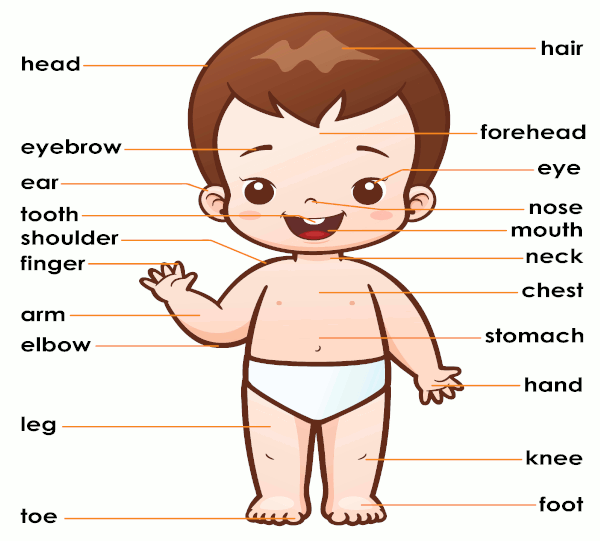 ⬤

Our internal organs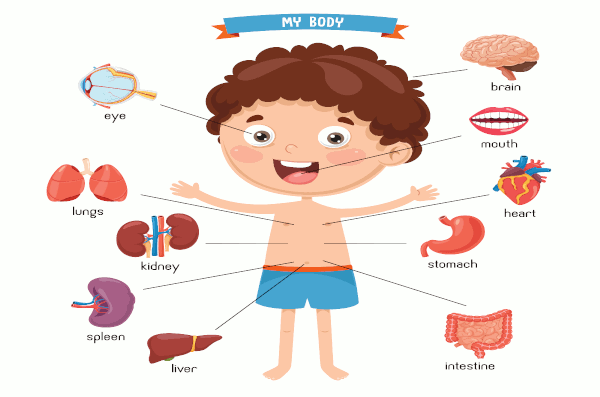 ⬤

Body parts games
⬤ Flashcards
⬤ Flip cards
⬤

Parts of the body with examples
Example sentences:
I have got blue eyes.
She has got long hair.
I have got two shoulders and two knees.
I have got two legs, but cats have got four legs.
We have big eyes.
This is my knee and this is my hand.
These are my arms.
Questions and answers:
Have you hot brown eyes? – Yes, I have got brown eyes.
Have they got long hair? – No, They haven't got long hair.
Has she got a big mouth? – No, she has a small mouth.
How many fingers have you got? – I have got ten fingers.
How many hands have you got? – I have got two hands.
Reading passage:
A letter to a new friend:
Dear friend,
My name is Pelin. I am 10 years old and I live in Istanbul, Turkey. I want to write about myself so you know what I look like.
I am not very short and not very tall. I am medium height. I have long, straight hair. It is black. I have brown eyes. My best friend is Eda. She is 15 years old. She lives in Istanbul, too. She is very tall. She has short, straight hair. She has fair hair and she has blue eyes. Her face is long – oval shape. Her legs are also very long.
I always go out with her. We love to go out together. Have you got short hair or long hair? Have you got blue eyes? Please write me!
Yours, Pelin.
⬤

Body parts online exercises
a)
b)
c)
d)
⬤

Worksheets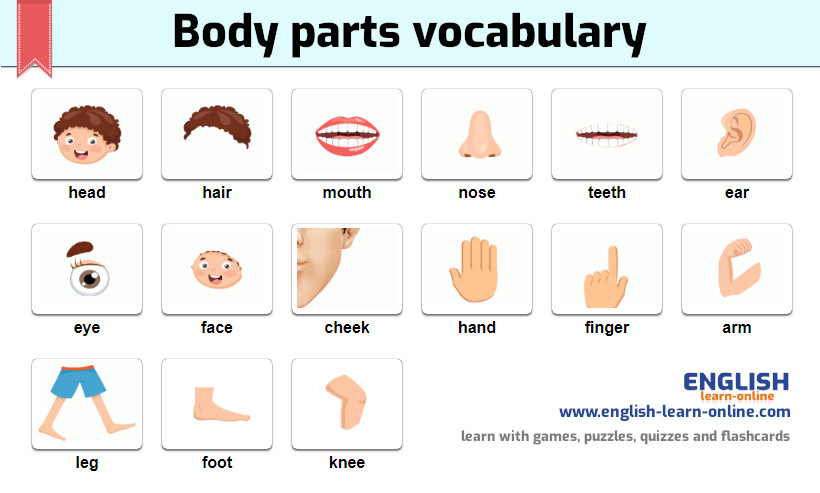 Human Body worksheets

•

Flashcards worksheet

•

Activity worksheet

•

Word scramble game worksheet

•

Body parts word search puzzle worksheet
External resource links:
You can click here to watch a video. You can play a matching game here and here. This is a downloadable document in pdf format to learn with flashcards.