A garden is a place outside of a house where you can see grass, flowers, trees and other plants. Some people like growing flowers or other plants in their private gardens, because they find it a place for hobby or recreation. Some gardens have ponds, pathways or fountains for landscaping. Watering the plants and caring the garden is called gardening. Names of objects in a garden can be found below with learning activities.
⬤

Pictures of garden vocabulary
---
⬤

Garden vocabulary
garden
gardener
lawn
lawn mower
hose
wheelbarrow
rake
ground
shed
patio
path
flower bed
bush
bench
shovel
plants
grass
dig
trowel
hoe
pond
flowerpot
fence
gate
greenhouse
washing lane
flowers
axe (U.K.) / ax (U.S.)
yard
backyard
watering can
bird house
---
SIMILAR PAGES:
❯❯ Parts of a house
❯❯ Living room
❯❯ Bedroom
❯❯ Kitchen vocabulary
❯❯ Bathroom
❯❯ Dining room
⬤

Games
⬤ Flashcards
⬤ Flip cards
⬤

Garden vocabulary practices
a)
b)
c)
d)
⬤

Worksheets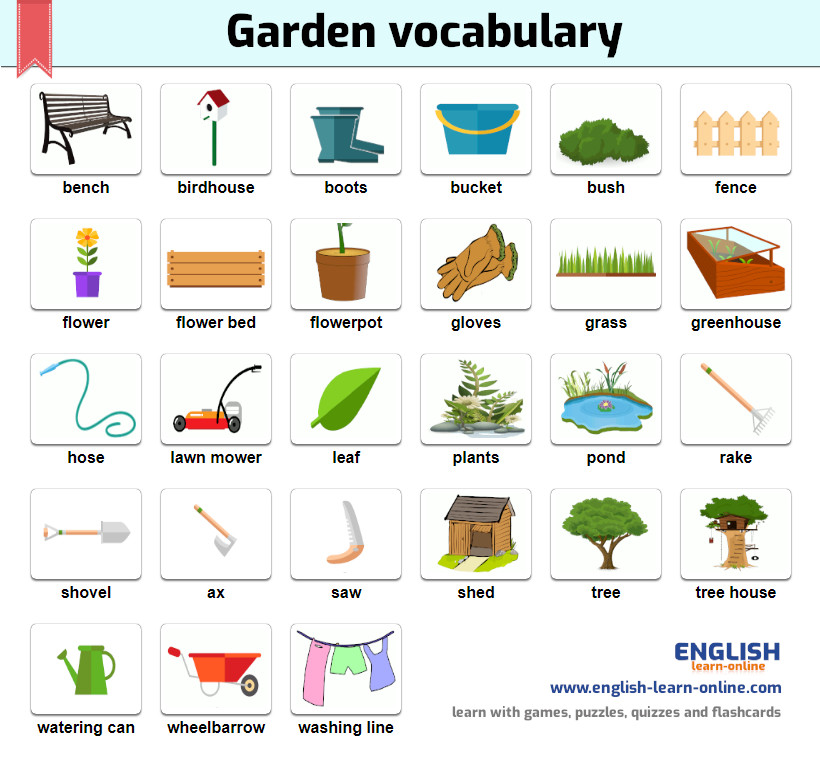 Garden objects worksheets

•

Word scramble game worksheet

•

Word search puzzle worksheet
External resource links:
You can click here to watch a video about garden. You may also read articles about garden. For example, you can read gardening tips here on WikiHow website.