In general, accessories are the objects that are used to make something stylish, safe, useful or attractive. Fashion accessories are secondary and aditional items used for outfit such as rings, belts and ties.
⬤

Pictures of accessories with pronunciations
These are the pictures of accessories. Click on any image to listen to the pronunciation.

---
⬤

Word list of accessories vocabulary in English
bag
handbag
purse
briefcase
wallet
watch
necklace
ring
bracelet
earring
belt
glasses
sun glasses
tie
bow tie
pocketbook
coin purse
make-up kit
shaving kit
travel kit
travel bag
sports bag
backpack
rucksack
hand luggage
hand baggage
cabin bag
flight bag
suitcase
garment bag
belt
straps
umbrella
button
buckle
clasp
Velcro
hat
fur hat
cap
baseball cap
hood
headband
helmet
scarf
kerchief
silk scarf
tote bag
---
SIMILAR PAGES:
❯❯ Clothes vocabulary
❯❯ Personal appearance vocabulary
⬤

Flashcards exercise about accessories
Guess the names of the accessories on the flashcards and click on them to see the answer.
⬤

Flip the card game about accessories
Click on a card and say the meaning of the accessory item in your native language.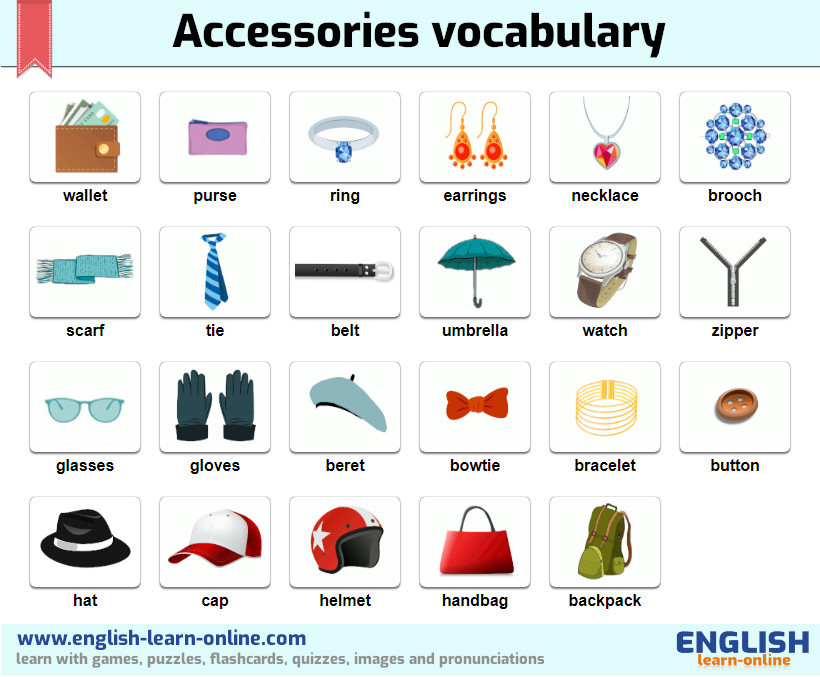 ⬤

Picture quiz about accessories
This is a picture quiz about accessories. Select the name of the picture from the list. For every correct answer you get 10 points.
⬤

Listening test about accessories
This is a listening test about accessories online. First listen to the word about accessories. Then select the relevant picture from the list. For each correct answer you get points.
a)
b)
c)
d)
⬤

Writing test about accessories
This is a writing test about accessories. Look at the picture and then write the name of the image into the text box. Each correct answer adds 10 points to your score.
⬤

Spelling test about accessories
Here is a listening and spelling test about accessories. First of all listen to the word. After that write what you hear in the text box. For each correct answer you get 10 points.
⬤

Worksheets about accessories vocabulary to download
•

Accessories word scramble game worksheet

•

Accessories word search puzzle worksheet
External resource links:
You can jump to accessories category page to find extra activities and games in this website by clicking here. However, there are some external links that may help you. You can play a game about accessories vocabulary here. And this is a flashcards document about accessories. You may also read articles about accessories. For example, you can read "Fashion Accessories" here.