A bedroom is a room of a house where people sleep, dress or rest. It is usually a peaceful place with family photos or pictures. Some houses have more than one bedrooms. Bedroom furniture is a group of furniture that is used in the bedrooms such as wardrobe and chest of drawers.
⬤

Pictures of bedroom vocabulary with pronunciations
Here is a list of bedroom objects with pronunciations. Click on any image for the pronunciation.

---
⬤

Word list of bedroom vocabulary in English
bedroom
bed
pillow
cushion
lamp
duvet
chest of drawers
sheet
blanket
single bed
double bed
alarm clock
bunk beds
carpet
light
dressing gown
hanger
picture frame
rocking chair
slippers
television
clothes
wardrobe
rug
curtains
poster
shelf
ceiling
---
SIMILAR PAGES:
❯❯ Parts of a house vocabulary
❯❯ Living room vocabulary
❯❯ Kitchen vocabulary
❯❯ Bathroom vocabulary
❯❯ Garden vocabulary
❯❯ Dining room vocabulary
⬤

Flashcards exercise about bedroom objects
You can see some images of bedroom objects vocabulary on the flashcards. Click on them to flip and see the answer.
⬤

Flip the card game
This exercise is designed for vocabulary practice to teach bedroom objects. Open the card and say the meaning of the bedroom object in your native language.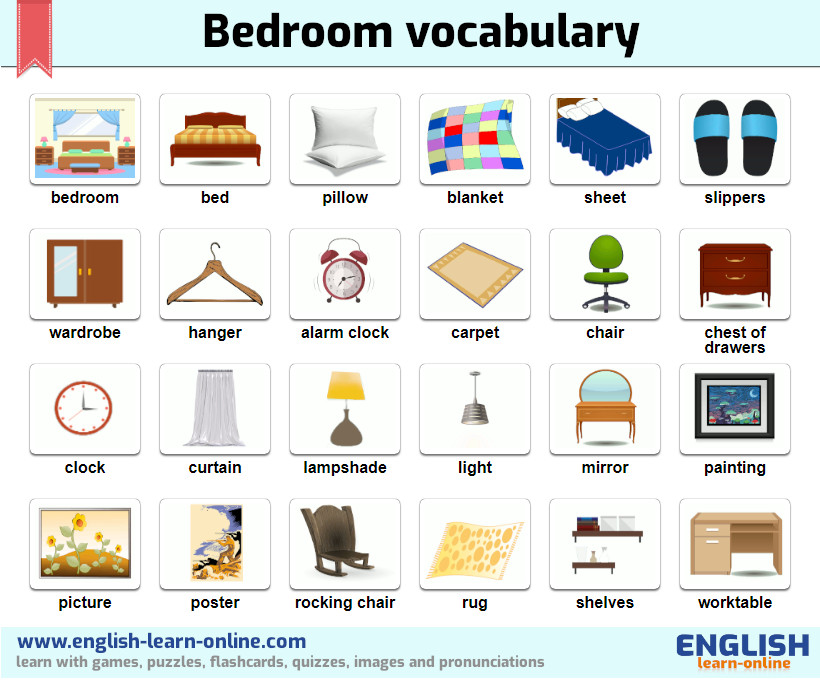 ⬤

Picture quiz about bedroom vocabulary
Select the relevant option from the list. Every correct answer adds 10 points to your score.
⬤

Listening test with pictures
Listen to the audio and then select the corresponding bedroom object from the list of pictures.
a)
b)
c)
d)
⬤

Writing test with pictures about bedroom vocabulary
By doing this test you can learn how to write bedroom vocabulary. Write the name of the bedroom object into the text box and get points.
⬤

Spelling test about bedroom
First listen to the pronunciation and then write what you hear into the text box.
•

Bedroom word scramble game worksheet

•

Bedroom word search puzzle worksheet
External resource links:
You can jump to bedroom category page to find extra activities and games in this website by clicking here. However, there are some external links that may help you. You can click here to watch a video about bedroom. You can also play a game about bedroom vocabulary here.