A bathroom is a room where you can use for personal hygiene activities in a house and it is used to wash hands, brush teeth, have a shower or have a bath. A typical bathroom has a shower, a sink, a toilet and a bathtub. However some bathrooms may not have all these. Some bathrooms have a washing machine for the laundry.
⬤

Pictures of bathroom vocabulary
---
⬤

Word list of bathroom vocabulary
bathroom
mirror
bath towel
shampoo
toilet paper
sponge
soap
liquid soap
bath
shower
washbasin
hair brush
tap (U.K.)
faucet (U.S.)
toothpaste
tooth brush
hand towel
razor
shaving foam
comb
tiles
bath mat
curtain
sink
shelf
cupboard
toilet brush
toilet
water closet (WC)
hair dryer
q-tip
dental floss
lotion
scale
nail clippers
scissors
bathtub
conditioner
cologne
powder
perfume
---
SIMILAR PAGES:
❯❯ Parts of a house vocabulary
❯❯ Living room vocabulary
❯❯ Bedroom vocabulary
❯❯ Kitchen vocabulary
❯❯ Garden vocabulary
❯❯ Dining room vocabulary
⬤

Games
⬤ Flashcards
⬤ Flip cards
⬤

Bathroom objects exercises
a)
b)
c)
d)
⬤

Worksheets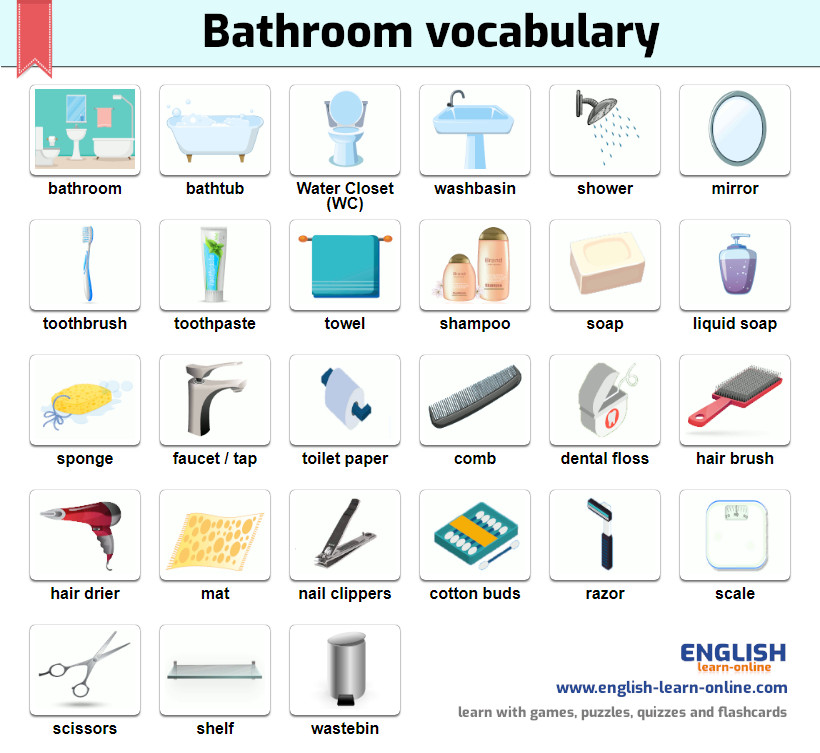 Bathroom worksheets

•

Word scramble game worksheet

•

Word search puzzle worksheet
External resource links:
You can click here to watch a video about bathroom. You can read "How to Clean a Bathroom" here.