A kitchen is a room or a place in a house where food is prepared and served. A kitchen has many kitchen utensils (kitchen tools) that is used for preparing and serving food such as saucepan, knife and grater. A kitchen can also be used for dining, storing food or laundry. Commercial kitchens are special kitchens designed for bigger places such as restaurants or hotels. Kitchen utensils vocabulary includes some equipment and tools related to kitchen and cooking.
⬤

Pictures of kitchen utensils
---
⬤

Kitchen utensils vocabulary
kitchen
fridge
oven
stove
cooker
microwave oven
dishwasher
washing machine
fork
knife
spoon
teaspoon
ladle
cup
mug
plate
dish
glass
saucer
pan
jug
bowl
grater
coffee pot
coffee maker
pot
teapot
cooker
tray
mixer
blender
tablecloth
napkin
sink
tap
waste bin
worktop
tea towel
frying pan
saucepan
pressure cooker
kettle
tin opener
toaster
liquidizer (GB)
blender (US)
broom
corkscrew
shelf
colander
rolling pin
drawer
tin opener
cookery book
dishcloth
grill
chopping board
cutting board
cooker hood
freezer
cupboard
washing-up liquid
dish sponge
---
SIMILAR PAGES:
❯❯ Parts of a house
❯❯ Living room
❯❯ Bedroom
❯❯ Bathroom
❯❯ Garden
❯❯ Dining room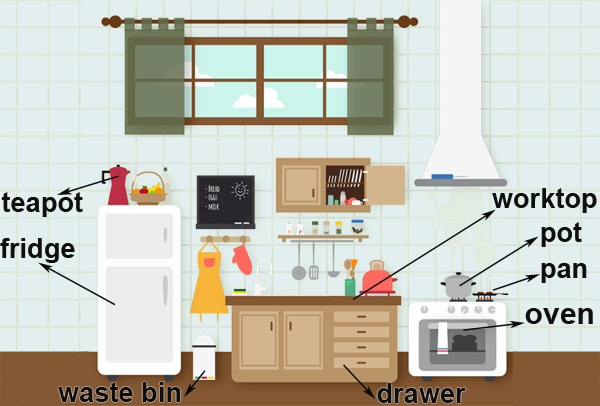 ⬤

Games
⬤ Flashcards
⬤ Flip cards
⬤

Some expressions about kitchen
do the dishes
do the washing up
clear the table
set the table
lay the table
⬤ Reading
KITCHEN SAFETY
Cooking is very enjoyable, but kitchen safety is very important. Some objects can be dangerous. Always pay attention to your actions. Here are a few safety instructions: Firstly keep knives in a drawer or a wooden block. Keep the knives away from children. Don't cook in loose clothes. Tie your long hair. Keep the floor dry so that no one slips and falls. Always keep your kitchen utensil such as pans, trays and glasses etc. clean. Don't forget to open the window for fresh air.
⬤

Kitchen vocabulary exercises
a)
b)
c)
d)
⬤

Worksheet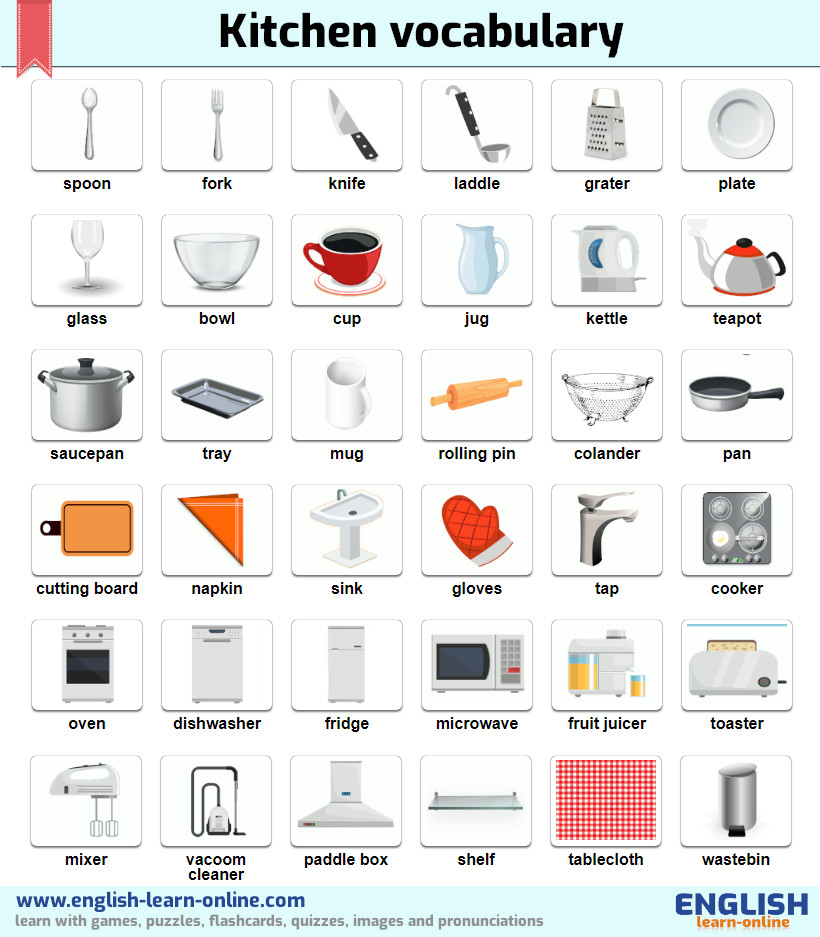 Kitchen worksheets

•

Kitchen word scramble game worksheet

•

Kitchen word search puzzle worksheet
External resource links:
You can click here to watch a video about kitchen. You may also read articles about kitchen. For example, you can read "Basic Rules of Kitchen Safety" here.