Cooking is the process of preparing food by mixing the ingredients and heating for consumption. There are many cooking methods such as baking, grilling, or boiling. The person who prepares food is called cook. Cooking is mostly done in the kitchens with special tools and equipments. These are called kitchen utensils.
⬤

Pictures of cooking vocabulary with pronunciations
Here is a list of cooking vocabulary in English with pictures and pronunciation. Click on an image for the pronunciation.

---
⬤

Word list of cooking vocabulary in English
Verbs about cooking

add
bake
blend
boil
broil
chop
cut
dip
fry
grate
melt
mix
scramble
serve
pour
roast
simmer
slice
spread
stir
taste
squeeze
peel
strain
drain
Cooking utensils vocabulary

can opener
microwave
mixing bowl
paper towels
roast
rolling pin
knife
spoon
spatula
steam
fork
ladle
frying pan
sink
dish
pan
scale
oven
cutting board
plate
tray
refrigerator
dishwasher
---
SIMILAR PAGES:
❯❯ Foods vocabulary
❯❯ Fruits vocabulary
❯❯ Vegetables vocabulary
❯❯ Drinks vocabulary
❯❯ Fast food vocabulary
❯❯ Herbs and spices vocabulary
⬤

Flashcards exercise about cooking vocabulary
Below is a flashcards exercise about cooking. The flashcards have images of cooking. Try to guess the name of an image and click on it to see the answer.
⬤

Flip the card game about cooking
Click on a card to open it and then you will see a word about cooking. Say the meaning of it in your own language.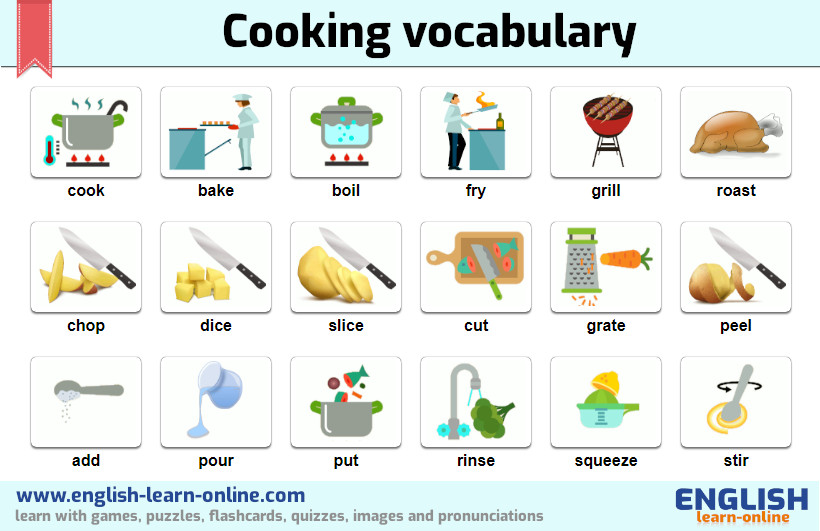 ⬤

Picture quiz about cooking
Below is a picture quiz about cooking. Select the best option according to the picture of cooking. For every correct answer you get 10 points.
⬤

Listening test about cooking
This is a listening test practice about cooking. First listen to the audio about cooking. Then select the corresponding picture from the list.
a)
b)
c)
d)
⬤

Writing test about cooking
Here is a writing test about cooking. Look at the picture and type the name of the image correctly into the text box.
⬤

Spelling test about cooking vocabulary
You will see a listening and spelling test about cooking below. First start the test and listen to the audio. Then type what you hear in the text box.
⬤

Worksheets for cooking vocabulary to download
•

Cooking word scramble game worksheet

•

Cooking word search puzzle worksheet