A fruit is a part of a plant that contains seeds and can be eaten as food. Fruits vocabulary is necessary to learn as we all need balanced diet and we need to talk about it in our everyday life. They are critical source of food, because they have essential nutritive value. Fruits can be sweet or sour, and they can be eaten in the raw state. They have commercial value because they are used in manufactured foods such as jams or marmalades, as well. In fact, not all the fruits are edible.
Culinary fruit means the fruits that are edible.
Tropical fruits means that they are grown in tropical and subtropical areas of the world.
Orchards are the lands where people grow fruits trees.
⬤

Pictures of fruits with pronunciations
---
⬤

Fruit names in English
apple
apricot
banana
blackberry
cherry
fig
grapefruit
grape
kiwi
coconut
lemon
rose hip
orange
peach
pear
pineapple
pomegranate
plum
peanut
strawberry
sour cherry
tangerine
watermelon
melon
mulberry
quince
walnut
hazelnut
chestnuts
mango
---
SIMILAR PAGES:
❯❯ Vegetables
❯❯ Foods
❯❯ Drinks
❯❯ Fast food
❯❯ Cooking
⬤

Fruits game
⬤ Flashcards
⬤ Flip cards
⬤

Everyday usage
Fruits example sentences
It is a banana.
These are melons.
This is a kiwi.
There are four oranges in the basket.
I like apples.
I don't like mango.
He doesn't like lemon.
Tangerine is a citrus fruit.
You should eat fruit every day.
I bought a kilo of apples.
I like dried fruit.
She likes eating fresh fruit.
Sally likes fruit juice.
This fruit has a nice smell.
There are a lot of fruit trees in the garden.
Melon is a summer fruit.
Questions & answers
What is this? – This is an orange.
Do you like quince? – Yes, I like quince.
Does Emma like apricot? – Yes, she likes apricot.
Would you like some fruit? – Yes, please.
Which fruit do you like most? – I like oranges most.
Do you peel an avocado? – Yes, I do.
What is your favourite fruit? – My favourite fruit is cherry.
How much is a kilo of strawberries? – 5 dollars.
Where does coconut grow in the world? – Coconut grows in the Philippines and Indonesia.
How do you eat pineapple? – I peel and cut the pineapple.
Reading passage
Fruits are necessary foods that we should include in our daily eating habits. There are a lot of reasons for this. First, there is no need to cook them. Second, it is very easy to get it. Third, they have fiber which is very beneficial for digestion. In addition, fruits have low calories, so it is hard to gain weight eating fruits. Moreover, they are protective to our healt and wellness. Beside these, fruits have essential vitamins and minerals. Lastly, their small is very appealing. We have a lot more reasons to include them in our daily eating habits.
⬤

Fruits exercises
a)
b)
c)
d)
⬤

Worksheets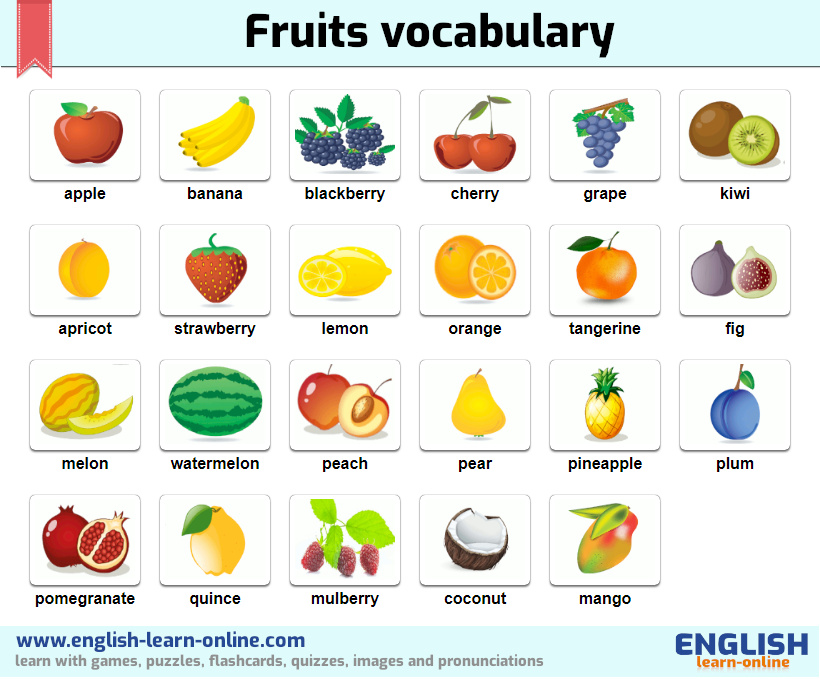 Fruits worksheets

•

Flashcards worksheet

•

Activity worksheet

•

Word scramble game worksheet

•

Word search puzzle worksheet
External resource links:
Here is a video about fruits in English.