Office equipment is the office supplies which are used in the offices as consumables or other supplementary objects. These office items are mostly used for communication or storage. Office equipment may also include office furniture and electronic devices such as computers.
⬤

Pictures of office equipment with pronunciations
These are the pictures of office equipment. If you want to listen to the pronunciations just click on the images.

---
⬤

Word list of office equipment vocabulary in English
office
file
folder
cupboard
printer
chest of drawers
wi-fi
plant
telephone
window blind
window shade
chair
screen
photocopier
post-it notes
filing-cabinet
computer
briefcase
pen
calculator
mobile phone
stapler
hole punch
keyboard
mouse
desk organizer
lamp
desk
table
projector
safe
pencil sharpener
scissors
waste basket
marker
highlighter
tape dispenser
scotch tape
paper clip
thumbtack
pushpin
rubber bands
glue stick
liquid glue
correction fluid
envelope
file folder
whiteboard
board markers
fountain pen
pencil sharpener
clipboard
notepad
staple remover
fax machine
eraser
notice board
tape measure
stamp
seal
---
SIMILAR PAGES:
❯❯ Top 140 business english vocabulary
❯❯ Tools and equipment vocabulary
❯❯ Classroom objects vocabulary
⬤

Flashcards exercise about office equipment
This flashcards exercise is for learning the office equipment vocabulary with images. Click on any card to open it.
⬤

Flip the card game
This memory game is very nice to learn office equipment. Open any card by clicking on it and say the meaning of it in your own language.
⬤

Images of office equipment vocabulary to download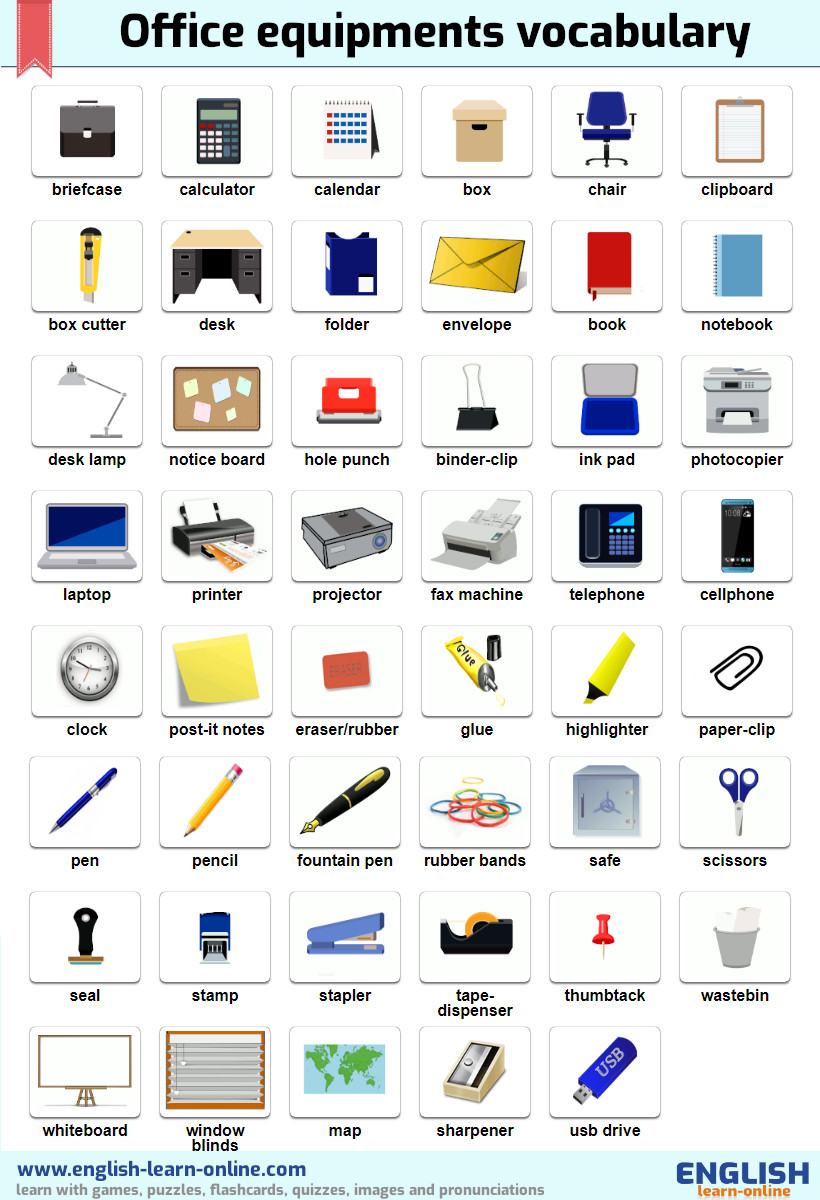 ⬤

Picture quiz about office equipment vocabulary
Here is a picture quiz about office equipment. Select corresponding option according to the picture.
⬤

Listening test about office equipment vocabulary
Here is a listening test about office equipment. It is easy and it helps your listening skill improve. First listen to the audio and select the relevant option from the list of images.
a)
b)
c)
d)
⬤

Writing test about office equipment
Below is a writing test about office equipment. In this test first look at the picture and then type the name of the image into the input box. For each correct answer you get 10 points.
⬤

Spelling test about office equipment vocabulary
Here is another listening and spelling test about office equipment. First of all listen to the audio. Then type the word that you hear into the input box.
⬤

Worksheets for office equipment vocabulary
•

Office equipment word scramble game worksheet

•

Office equipment word search puzzle worksheet