Daily routines are the the series of things that one does in daily basis. The routines are mostly done in a fixed order. These routines are also called as "every day life" or "daily life".
Daily schedule is a list of plans, events or tasks with the times at which something should be done.
Chores are boring or tedious routines that are required, particularly a household one.
Not all the daily activities are tedious, they can be enjoyable, as well.
⬤

Pictures of daily routines with pronunciations
Below are some of the pictures of daily activities. You can tap on the images to listen to the pronunciations.

---
⬤

Word list of daily routines
wake up
get up
eat breakfast
drink coffee
read the newspaper
have lunch
go to school
start work
finish work
ride the bus
drive a car
buy something
come home
use a computer
send e-mail
listen to music
change clothes
cook dinner
wash the dishes
watch television
study English
do homework
help my mother
call a friend
play games
clean my room
take a shower
brush my teeth
go to bed
sleep
---
SIMILAR PAGES:
❯❯ Types of sports vocabulary
❯❯ Free time activities vocabulary
⬤

Flashcards exercise
Tap on the cards to see the names of the daily routines.
⬤

Flip the card game
Tap on any card and guess the meaning of it in your native language.
⬤

Example sentences
I get up early every day.
I wash my face and I get dressed.
I have breakfast with my family.
I get on the school bus.
I have 6 classes a day.
I have lunch at school canteen.
I get back home after school.
I start doing my homework at 7 PM.
I have dinner at 7 PM.
I spend time with my family.
I go to bed at 10 PM.
She sleeps late.
I don't drink fruit juice for breakfast.
I listen to music after the dinner.
We drink tea together.
Ali wakes up early.
She doesn't go to school by bus.
Hugo watches a movie.
He has a shower after work.
Luis goes to the pool every day.
I get up at 7 o'clock, but my wife gets up at 8 o'clock.
After breakfast, I brush my teeth.
⬤

Asking questions about daily routines
Do you play games after school? – Yes, I play games after school.
Do you get up early on Saturdays? – No, I don't get up early on Saturdays.
What time do you get up? – I get up at about 7 AM.
What time does Mark go to work? – He goes to work at half past seven.
Do you brush your teeth every day? – Yes, I do.
Who goes to work by car? – William goes to work by car.
How do you go to school? – I go to school by bus.
Does Emily go out with her friends? – Yes, she does.
What do they have for breakfast? – They have cheese, olives and omelette for breakfast.
What time does Harry go to school? – He goes to school at 7 AM.
⬤

Reading passage about daily routines
My Daily Routine
My name is Daniel. I am a policeman. I get up early in the morning and I wash my face. After that, I have my breakfast. Then, I wear my uniform. I start work at 8 AM. It is a hard work. My friends and I are on the streets of the city. In the evening I get back home and have a shower. Before having dinner, I play with my children. I spend some time with my family after dinner. Sometimes we drink tea together. I need to have a rest after a day of hard work and I go to bed at 11 PM.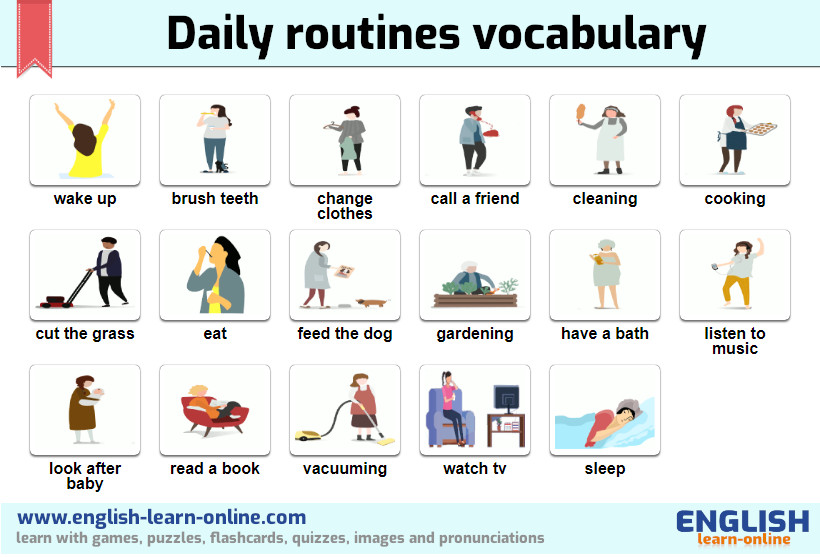 ⬤

Picture quiz
When you see an image of a daily routine, select the appropriate option from the list. You get 10 points from every correct answer.
⬤

Listening test with pictures
Play the audio and select the relevant image of the daily routine from the list.
a)
b)
c)
d)
⬤

Writing test with pictures
Start the test and write the name of the daily routine into the input box.
⬤

Spelling test
Start the test and play the audio. Then type the daily routine into the input box.
⬤

Worksheets about daily routines to download as PDF and image
Here are pdf and jpg image worksheets about daily routines vocabulary. You can download, use, and share these printable ESL worksheets.
•

Daily routines flashcards worksheet

•

Daily routines activity worksheet

•

Daily routines word scramble game worksheet

•

Daily routines word search puzzle worksheet
External resource links:
You can jump to daily routines category page to find extra activities and games in this website by clicking here. However, there are some external links that may help you. You can click here to watch a video about daily routines. This and this are word matching games to learn daily routines. You can find a pdf document of flashcards exercise here or worksheet here. You may want to read some articles about this topic for personal development. First, you can read "How to Have a Daily Routine" here or "Powerful Daily Routine Examples" here.