A plant is a living organism with a stem, roots, and leaves. Most plants grow in the ground absorbing water with their roots. Plants need sunlight and they make their own food. There are many kinds of plants on earth such as flowers, trees, grasses, and herbs.
⬤

Pictures of plants vocabulary with pronunciations
The following is the plants vocabulary with pictures and pronunciations. To learn how to say plants in English click on any image.

---
⬤

Word list of plants vocabulary in English
plant
flower
fruit
garden
grain
grass
herb
forest
jungle
rain forest
stem
thorn
tree
trunk
vegetable
wood
rose
vine
reeds
bean
berry
bush
cactus
corn
mushroom
evergreen
botany
leaf
agriculture
blossom
clover
root
seed
stalk
sprout
nut
palm
ivy
lily
moss
nectar
branch
fern
flora
petal
pollen
water lily
pine tree
---
SIMILAR PAGES:
❯❯ Fruits vocabulary
❯❯ Vegetables vocabulary
❯❯ Herbs and spices vocabulary
❯❯ Nature vocabulary
❯❯ Farm life vocabulary
⬤

Flashcards exercise about plants vocabulary
You can learn plants vocabulary with flashcards exercise below. First guess the name of a picture and then click on the card to see the answer.
⬤

Flip the card game about plants
Click on a card to flip it. After that you will see a random word about plants. Try to guess the meaning of it in your native language.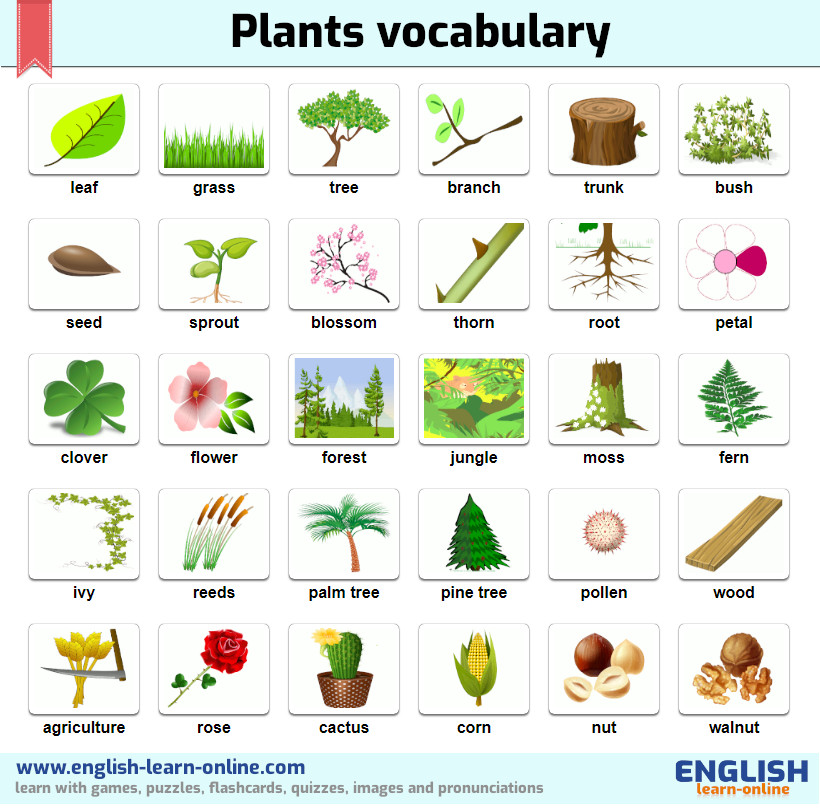 ⬤

Picture quiz about plants vocabulary
The following is a picture quiz about plants. Select the name of the picture from the list. For every right answer you get 10 points.
⬤

Listening test about plants vocabulary
Here is a listening test practice about plants. Listen to the audio about plants. Then select the corresponding option from the list of images. For each right answer you get 10 points.
a)
b)
c)
d)
⬤

Writing test about plants vocabulary with pictures
Below is a writing test about plants. Firstly, look at the image and after that type the name of the image into the text box.
⬤

Spelling test about plants vocabulary
This is a listening and spelling test about plants. Listen to the audio and then type what you hear into the text box correctly.
⬤

Worksheets for plants vocabulary to download
•

Plants word scramble game worksheet

•

Plants word search puzzle worksheet