Street is a road in a city or town. Streets usually have pavement (sidewalk), many houses and buildings on one or both sides. There are many things on the street and it is important to learn them for English communication.
⬤

Pictures of street objects with pronunciations
These are the vocabulary images of the objects that you can see on a street. Click on the pictures for the pronunciations.

---
⬤

Word list of street vocabulary in English
street
traffic light
red light
yellow light
green light
pedestrian crossing
zebra crossing
pavement (U.K.)
sidewalk (U.S.)
bus stop
taxi stop
café
restaurant
fast food restaurant
market
street vendor
monument
memorial
garage
ATM
cash machine
buildings
house
apartment house
park
road
avenue
alley
boulevard
lane
drive
route
main street
side street
main road
back street
main road
side road
back road
highway
parkway
access road
toll road
motorway
superhighway
intersection
crossroad
---
SIMILAR PAGES:
❯❯ City life vocabulary
❯❯ Transportation vocabulary
❯❯ Travel vocabulary
⬤

Flashcards exercise about street vocabulary
The flashcards below have pictures of street objects. Click on the cards to see the name of objects.
⬤

Flip the card game about street
Click on a card to open it. Then you will see a word about street. Guess the meaning of it in your own language.
⬤

Images of street objects vocabulary to download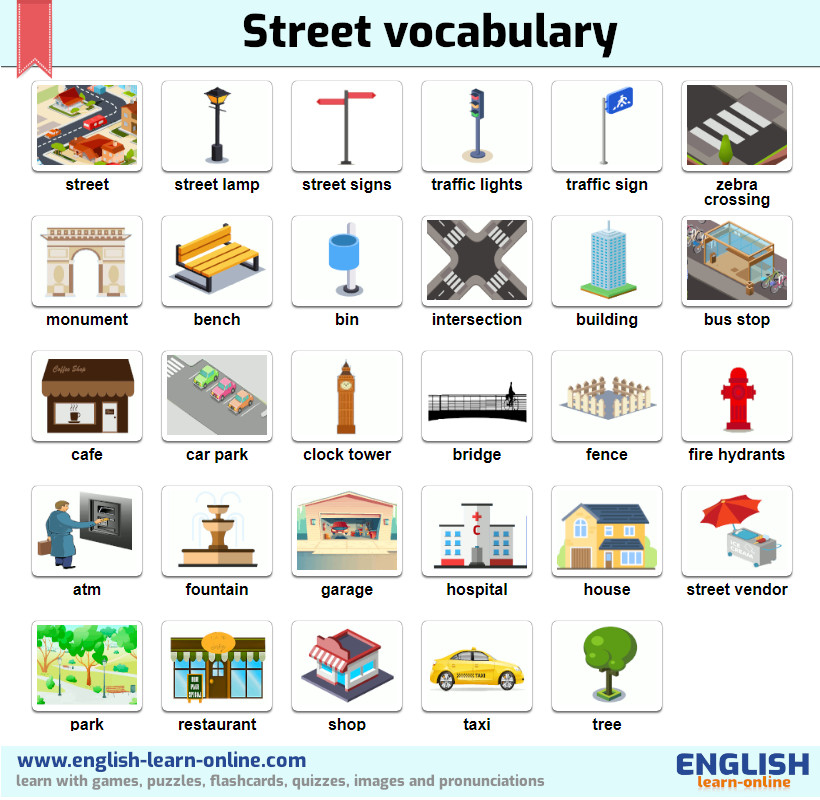 ⬤

Picture quiz about street vocabulary
This is a multiple choice quiz about street. Select the name of the picture from the list. For every correct answer you get 10 points.
⬤

Listening test about street vocabulary
This is a listening practice about street. First listen to the audio about street. Then select the relevant picture from the list. You get points for each correct answer.
a)
b)
c)
d)
⬤

Writing test about street vocabulary
This is a writing test about street. First look at the picture. Then write the name of the image into the input box. For each correct answer you get points.
⬤

Spelling test about street
Here is a listening and spelling test about street. Start the test and then listen to the pronunciation. After that type the word that you hear into the text box.
•

Street word scramble game worksheet

•

Street word search puzzle worksheet