Travelling is going from a place to a distant place. Movement of people is considered as travel. People travel by many vehicles such as car, bus, plane, train or ship. These are called means of transport.
⬤

Pictures of travel vocabulary with pronunciations
Here is a list of travel vocabulary in English with pictures. You can listen to the pronunciation when you click on an image.

---
⬤

Word list of travel vocabulary in English
travel
passenger
journey
voyage
trip
tour
cruise
safari
destination
expedition
route
airport
check-in
board
fly
land
take off
arrive
leave
depart
travel
visit
plane
travel agent
hotel
hostel
motel
luggage
ticket office
ticket
customs
delay
information desk
map
book
flight attendant
passport
flight
rent a car
insurance
by train
by plane
by bus
by car
on foot
---
⬤

Air travel vocabulary
layover
stopover
gate
domestic
delay
boarding pass
airline
aisle
business class
captain
cockpit
co-pilot
economy class
first-class
life vest
seatbelt
stewardess
flight attendant
take off
turbulence
emergency exits
departures
board
baggage
---
SIMILAR PAGES:
❯❯ Holiday vocabulary
❯❯ City life vocabulary
❯❯ Transportation vocabulary
❯❯ Business English vocabulary
⬤

Flashcards exercise about travelling
Learn travel vocabulary with flashcards exercise below. There are flashcards about travel vocabulary. Guess it and open the card to see the answer.
⬤

Flip the card game about travelling
Click on a card to open it. Then you will see a random word about travelling. Guess the meaning of it in your own language.
⬤

Images of travel vocabulary to download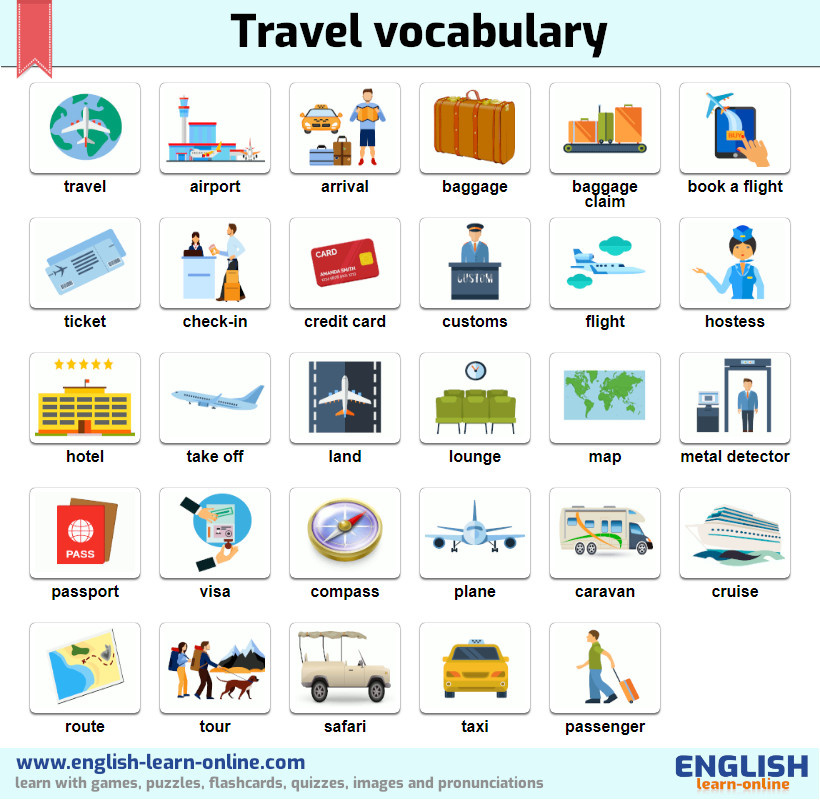 ⬤

Picture quiz about travel vocabulary
Let's check your travel vocabulary with images. Select the correct option according to the given picture. For every correct answer you get 10 points.
⬤

Listening test
This is a free listening test about travelling. First listen to the audio about travel. Then select the corresponding picture from the list.
a)
b)
c)
d)
⬤

Writing test about travel
Below is a vocabulary writing test about travel. Look at the image and write the name of the picture into the input box.
⬤

Spelling test about travel
Below is a vocabulary listening and spelling test about travel. Listen to the audio and then write what you hear into the input box. For every correct answer you get points.
⬤

Worksheets for travel vocabulary to download
•

Travel word scramble game worksheet

•

Travel word search puzzle worksheet