List of Prepositions in English is a good start to learn how to use them. Some examples are the words such as "in", "on", "about", "for" etc. They function so as to link nouns, pronouns and phrases to other words. They can describe place, time, manner or purpose. Well, what are the prepositions then? Prepositions are a class of words called parts of speech. They are used when we need to add extra information to our sentences such as place and time. There are many of them in English and they can be used more than once in a sentence, so it is a good idea to learn them at once.
⬤

Prepositions Images
You can click on the boxes for the pronunciations.

---
⬤

List of prepositions
Here is an extended list to learn.
Prepositions:
in
on
under
to
at
from
next to
with
by
for
about
near
between
off
around
behind
across
below
opposite
outside
into
onto
over
up
down
beside
in front of
without
inside
like
above
after
before
nearby
during
except
against
along
alongside
amid
among
amongst
as
aside
beneath
beyond
despite
excepting
excluding
following
including
per
since
than
through
throughout
times
toward
towards
underneath
unlike
till
until
upon
versus
via
within
worth
---
SIMILAR PAGES:
❯❯ Adjectives
❯❯ Conjunctions
❯❯ Verbs
❯❯ Question words
⬤

Games
⬤ Flashcards
⬤ Flip cards
⬤

Exercises
a)
b)
c)
d)
⬤

Worksheets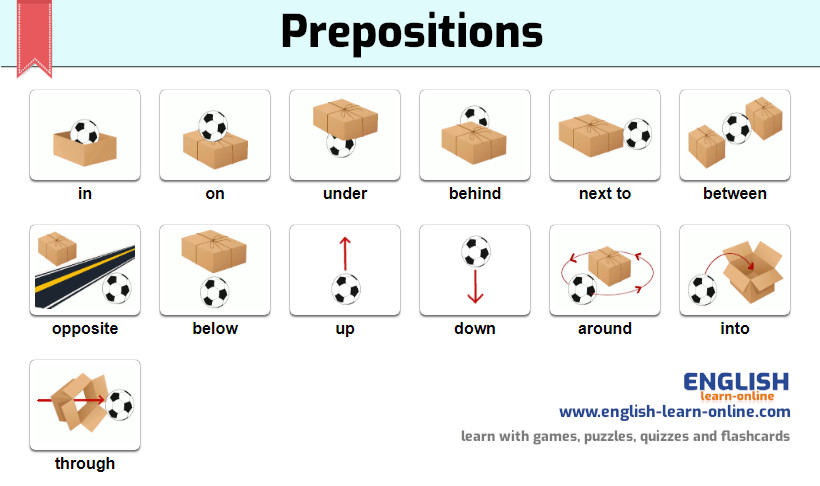 Prepositions worksheets

•

Word scramble game worksheet

•

Word search puzzle worksheet
External resource links:
You can click here for prepositions video . In addition to these here is a nice grammar page about prepositions from "learningenglish.voanews.com".