Pets are domestic animals and they can be of different species. They are lovely animals that we keep at our living environment. Pets vocabulary is the words related to some domestic animals. Some wild animals are not suitable to keep as pets because of their wild nature.
⬤

What are the names of the pets in English?
Pets are domestic or tamed animals that people keep at home as a companion or as a means of entertainment. Pets are not wild animals so they are called "tamed" which means they are not wild and they are friendly to their "guardians". Pets are domestic animals; however, they are kept as companions unlike the other domestic work animals such as horses or donkeys.
Pet shops are the places where you can buy pets, animal supplies or pet accessories such as food, toys, collars, leashes or cages. A vets is an expert who takes care of the health of animals, so they have medical degree and they are specialists in animal care. Pets are also different from some of the domestic animals such as sheep and cows which are farmed for food.
⬤

Pictures of pets with pronunciations
---
⬤

Word list of common pets
pets
dog
parrot
cat
kitten
puppy
rabbit
goldfish
canary
budgie
tortoise
monkey
pigeon
snake
mouse
rat
hamster
spider
lizard
---
SIMILAR PAGES:
❯❯ Animals vocabulary
❯❯ Sea animals vocabulary
❯❯ Birds vocabulary
❯❯ Insects vocabulary
⬤

Pets game
⬤ Flashcards
⬤ Flip cards
⬤

Example sentences and questions
It is a cat.
They are rabbits.
This is my dog.
It is not a canary it is a budgie.
There are two budgies in the cage.
There is a cat under the chair.
My hamster is white.
I have got a yellow canary.
She has got a turtle.
My favourite pet is parrot.
My dog's name is Buddy.
Is it your pet? – Yes, it is my pet.
Is this a canary? – No, it is a budgie.
What is your pet's name? – My pet's name is Max.
Are there budgies in the cage? – Yes, there are 2 budgies in the cage.
Have you got a pet? – No, I haven't got a pet.
How many cats are there in your room? – There are two cats in my room.
How many pets have you got? – I have got three pets.
Where is the dog? – It is outside.
What are these? – These are my snails.
What is your favourite pet? – My favourite pet is parrot.
Reading passage
You have a pet. Then it is a nice companion and it is fun. They are like family members. They need care like a child. It is nice to spend time with. But don't forget that they need exercise every day and you should clean them regularly. They may be fun and they may be helpful but they may cost you alot monthly. Remember that pets are living creatures like humans and they need care.
⬤

Pets vocabulary exerices
a)
b)
c)
d)
⬤

Worksheets about pets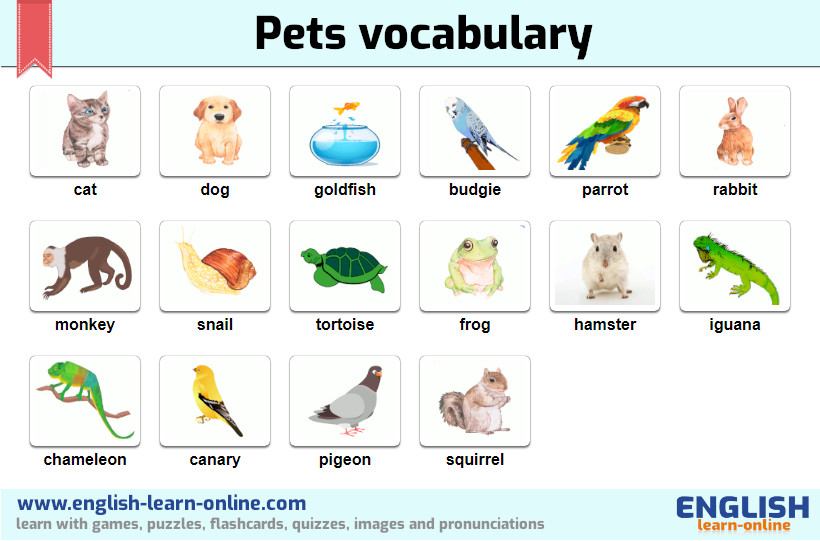 Pets worksheets

•

Activity worksheet

•

Word scramble game worksheet

•

Word search puzzle worksheet
External resource links:
You can go to Youtube to watch a video about Pets or play games to learn pets in English or download a worksheet about pets vocabulary.