A bird is an animal with wings, a beak, two legs and feathers covering its body. Birds are vertebrate and they can fly.
⬤

Pictures of birds with pronunciations
These are the names of some birds in English with pictures. Click on any image to listen to the pronunciation.

---
⬤

Word list of bird names in English
bird
parrot
pigeon
duck
turkey
penguin
owl
crow
goose
chick
chicken
hen
rooster
cock
eagle
ostrich
peacock
vulture
sparrow
swallow
gull
seagull
swan
hawk
pelican
flamingo
falcon
fly
wing
beak
feathers
nest
tweet
migrate
flock
---
SIMILAR PAGES:
❯❯ Animals vocabulary
❯❯ Sea animals vocabulary
❯❯ Pets vocabulary
❯❯ Insects vocabulary
⬤

Body parts of birds
Here are the body parts of the birds in English.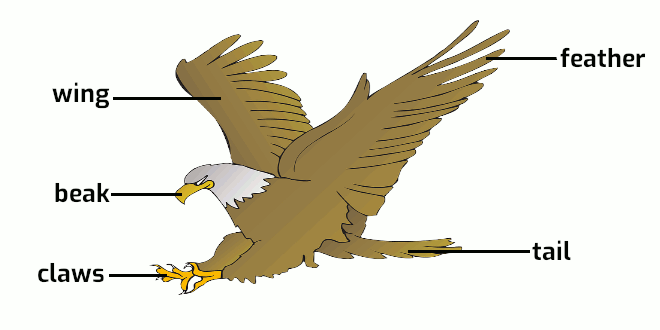 ⬤

Flashcards exercise about birds
You can learn birds vocabulary with flashcards exercise below. These are the flashcards with images of birds. Guess the name of the bird and after that click on the card to see the answer.
⬤

Flip the card game about birds
Here is a nice memory game about birds vocabulary. Click on a card to flip it. Then you will see a random word about birds. Guess the meaning of it in your own language.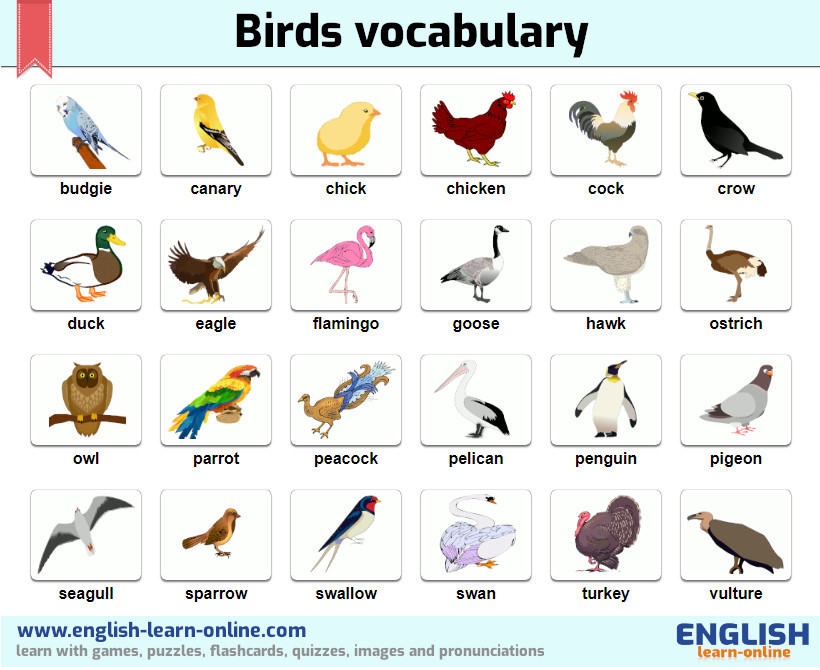 ⬤

Picture quiz about birds vocabulary
The following is a vocabulary picture quiz about birds. Select the name of the bird from the list according to the bird image. Every right answer will add 10 points to your score.
⬤

Listening test about birds vocabulary
Here is a listening test practice about birds. Firstly, listen to the name of the bird and then select the relevant picture of the bird from the list. For each correct answer you get 10 points.
a)
b)
c)
d)
⬤

Writing test about birds
Below is a writing test about birds. First, look at the picture of the bird and after that type the name of the bird into the text box.
⬤

Spelling test about birds
This is a listening and spelling test about birds. First, listen to the audio and identify the bird name. Then type the name of the bird into the input box.
•

Birds word scramble game worksheet

•

Birds word search puzzle worksheet