Appearance is how someone or something looks. Personal appearance is how a person looks in terms of complexion, hair style, eye colour, height or build. Appearance also refers to clothing and posture.
⬤

Pictures of appearance vocabulary with pronunciations
These are the images of appearance vocabulary. Just click on an image to listen to the pronunciation.

---
⬤

Word list of appearance vocabulary in English
Height
tall
short
average height
normal height
medium height
Build
thin
slim
skinny
slender
fat
overweight
plump
Hair Colour
blonde
fair hair
brown hair
brunette
red hair
redhead
black hair
grey hair (U.K.)
gray hair (U.S.)
pony tail
Eyes
green eyes
blue eyes
brown eyes
dark eyes
hazel eyes
Hair style
short hair
long hair
straight hair
curly hair
wavy hair
Complexion
dark skin
fair skin
tanned skin
moustache
beard
chin
forehead
bald
eyebrows
wears glasses
cheeks
lips
nostrils
teeth
wrinkle
scar
spots
in her 50's
muscular
young
teenager
middle-aged
child
toddler
baby
elderly
old
beautiful
pretty
attractive
ugly
---
SIMILAR PAGES:
❯❯ Clothes vocabulary
❯❯ Accessories vocabulary
❯❯ Body parts vocabulary
❯❯ Face vocabulary
⬤

Flashcards exercise about appearance vocabulary
Say what the images are about appearance and then click on the flashcards to see the answer.
⬤

Flip the card game
Open the back side of the card and say the meaning of the word in your native language.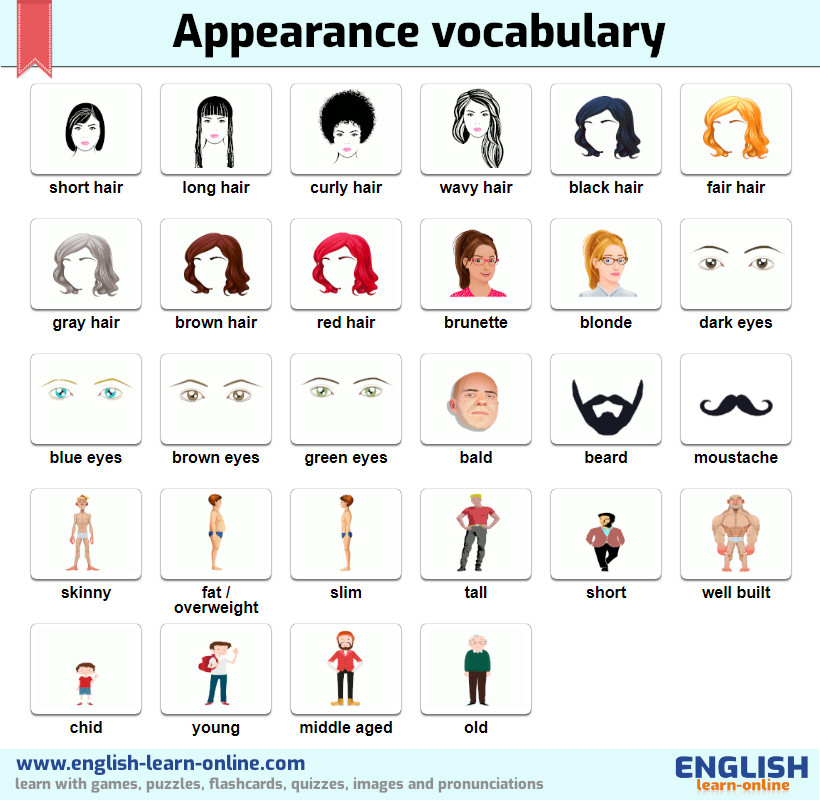 ⬤

Picture quiz about appearance vocabulary
This is a picture quiz about appearance. Select the option that has the name of the appearance. Each correct answer will add 10 points to you score.
⬤

Listening test about appearance vocabulary
Listen to the pronunciation and select the appropriate picture from the list of images.
a)
b)
c)
d)
⬤

Writing test about appearance vocabulary with pictures
Write the name of the appearance into the text box as you have learned earlier on this page. Correct answers will add 10 points to your score.
⬤

Spelling test about appearance vocabulary
Listen to the pronunciation and type the word about appearance into the box correctly. This spelling test will help you learn how to write the words correctly.
•

Appearance word scramble game worksheet

•

Appearance word search puzzle worksheet
External resource links:
You can jump to appearance category page to find extra activities and games in this website by clicking here. However, there are some external links that may help you. You can click here to watch a video about appearance. You can also play a nice game about appearance vocabulary here. You may also read articles about appearance. For example, you can read "9 surprising things your physical appearance says about you" here.