Landscape is a scenery of a rural area such as rivers, mountains, trees etc. Landscape is often a view of a rural area from a viewpoint. Landscape can be farmland or a wilderness such as a desert or a coast.
⬤

Pictures of landscape vocabulary with pronunciations
The vocabulary below is about landscape in English. Click on a picture for the pronunciation.

---
⬤

Word list of landscape vocabulary in English
canyon
river
mountain
bridge
ocean
lake
field
tunnel
city
beach
road
sea
plains
woods
town
village
volcano
bay
iceberg
meadow
coast
forest
desert
hills
island
valley
canal
jungle
cave
waterfall
farmland
cliff
oasis
creek
dam
swamp
stream
glacier
coral reef
marsh
moor
peninsula
peak
---
SIMILAR PAGES:
❯❯ Nature vocabulary
❯❯ Seaside vocabulary
⬤

Flashcards exercise about landscape vocabulary
You can learn landscape vocabulary with flashcards below. There are flashcards about landscape. First, guess the name of the picture and click on the flashcard to see the answer.
⬤

Flip the card game
This is game about landscape vocabulary. Click on a card to flip it. Then you will see a random word about landscape. Guess the meaning of it in your own language.
⬤

Images of landscape vocabulary to download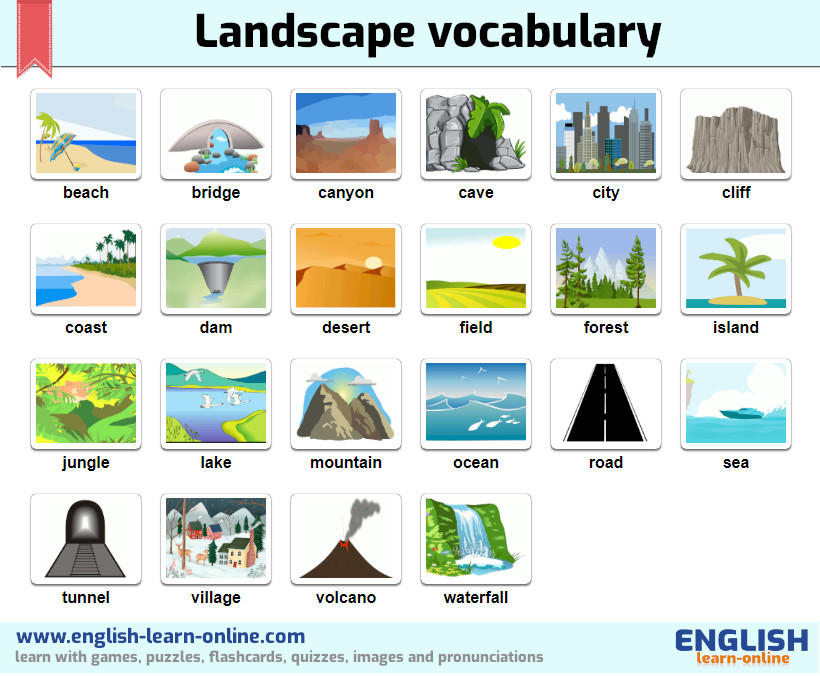 ⬤

Picture quiz about landscape vocabulary
The following quiz is about landscape vocabulary. According to the picture select the name of the landscape from the list. Each correct answer will add 10 points to your score.
⬤

Listening test about landscape vocabulary
The following test is a vocabulary listening practice about landscape. First listen to the audio about landscape and then select the corresponding picture from the list.
a)
b)
c)
d)
⬤

Writing test about landscape
Here is a writing test about landscape vocabulary. Look at the picture and type the name of the landscape into the input box.
⬤

Spelling test about landscape vocabulary
Below is a listening and spelling test about landscape. In this test first listen to the audio. Then type the name of the landscape into the text box correctly.
⬤

Worksheets for landscape vocabulary to download
•

Landscape word scramble game worksheet

•

Landscape word search puzzle worksheet