Jobs and occupations are positions where someone get paid. An occupation is a person's job or profession. Everybody works for a living but this working position is called differently according to the place, status and the activities you do. When you need to talk about the way you earn money you need to learn the names of the jobs and occupations in English.
⬤

Jobs with pictures and pronunciations
This is a list of jobs and occupations with images. Just click on an image so that you can listen to the pronunciation.

---
⬤

Word list
job
occupation
accountant
actor
actress
athlete
author
baker
barber
beautician
broker
builder
burglar
butcher
carpenter
cashier
chambermaid
chauffeur
chef
clerk
coach
cook
craftsman
criminal
dentist
director
doctor
editor
electrician
engineer
farmer
fire fighter
fisherman
footballer
hairdresser
imam
judge
lawyer
magician
mechanic
model
musician
nurse
optician
painter
pharmacist
photographer
pilot
plumber
poet
policeman
policewoman
politician
porter
postman
president
priest
prime minister
professor
rabbi
real estate agent
receptionist
sailor
sales representative
salesman
scientist
secretary
shoemaker
shop assistant
soldier
surgeon
tailor
taxi driver
teacher
technician
translator
travel agent
veterinarian (vet)
waiter
waitress
welder
---
SIMILAR PAGES:
❯❯ Business English vocabulary
⬤

Games
⬤ Flashcards
⬤ Flip cards
⬤

Jobs and occupations in daily English
⬤ Example sentences:
I am a policeman.
He is a fireman.
I am a doctor. I can examine patients.
He is a waiter. He can take orders and serve.
She is a hairdresser. He can cut and design hair.
He is a driver. He can drive cars and lorries.
I am a cook. I can cook delicious meals.
Oliver is a dentist. He likes his job.
I worked as a chef in a famous restaurant.
He worked as a freelancer.
My father is retired now.
⬤ Questions and answers:
Are you a tailor? – Yes, I am a tailor.
What can an English teacher do? – An English teacher can teach English.
What can a farmer do? – He can grow fruits and vegetables.
Can a judge repair cars? – No, he can't.
What does Misaki do? – He is an architect.
Can a mechanic cut hair? – No, he can't. He can repair cars.
Where do you work? – I work in an international company.
Is it an indoor or outdoor job? – It is an indoor job.
Do you have a job? – Yes, I have a job.
What is your dream job? Why? – My dream job is to be a professional footballer, because I love playing football.
What does your father do? – He is a pharmacist.
⬤ Reading passage:
I am Thomas. I am a student. My father is a soldier and he works in the army. That is why it is a heavy duty. My mother is a housewife. She was an optician, but she is unemployed now. She can cook delicious meals. My elder brother is a university student and he wants to be an engineer, because he likes science. In fact, he wanted to be a scientist in his childhood. My sister is 14. She wants to be a painter or a poet, because she likes art and literature.
⬤

Vocabulary exercises
a)
b)
c)
d)
⬤

Worksheets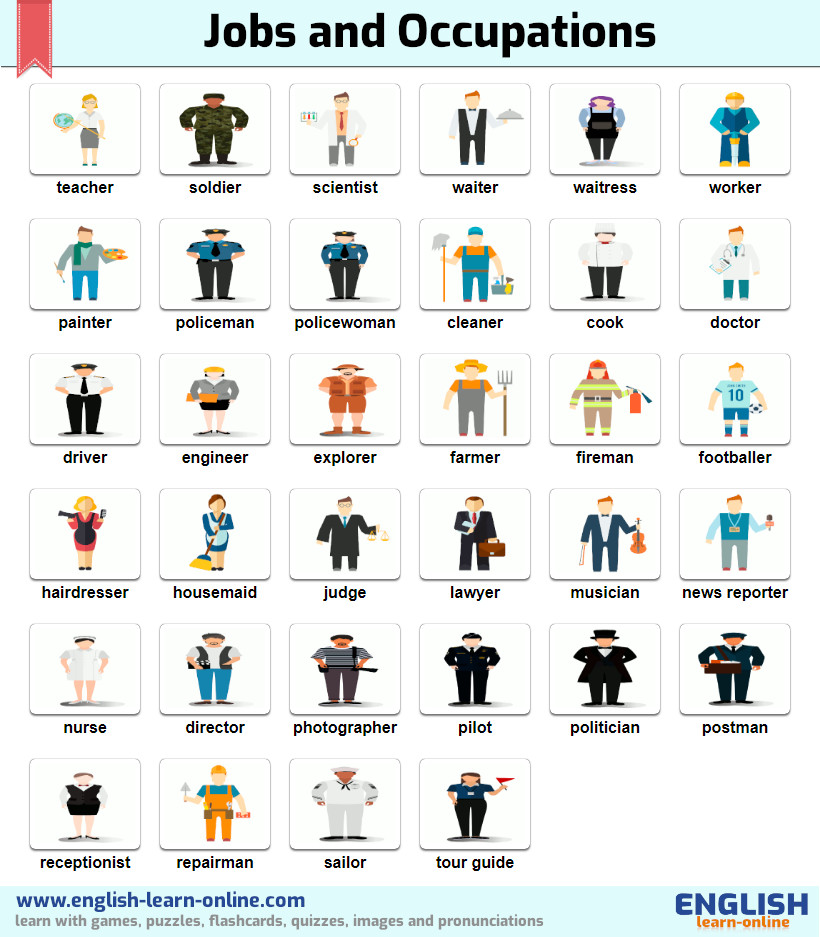 Jobs and occupations worksheet

•

Word scramble game worksheet

•

Word search puzzle worksheet
External resource links:
You can click jobs and occupations in English to watch a video. You may also read articles about jobs and occupations. For example, you can read information about jobs and occupations on WikiPedia here.