A family is a group of people who are related to each other by blood, marriage, or adoption. The most common family unit is the nuclear family, which consists of a mother, a father, and their children. Other family structures include extended families, which consist of grandparents, aunts, uncles, and cousins, and single-parent families, which consist of a parent and his or her children. A family is the basic unit of a society. The members of the family are mostly genetically tied relatives and and they share the same surname. As a result family members live together.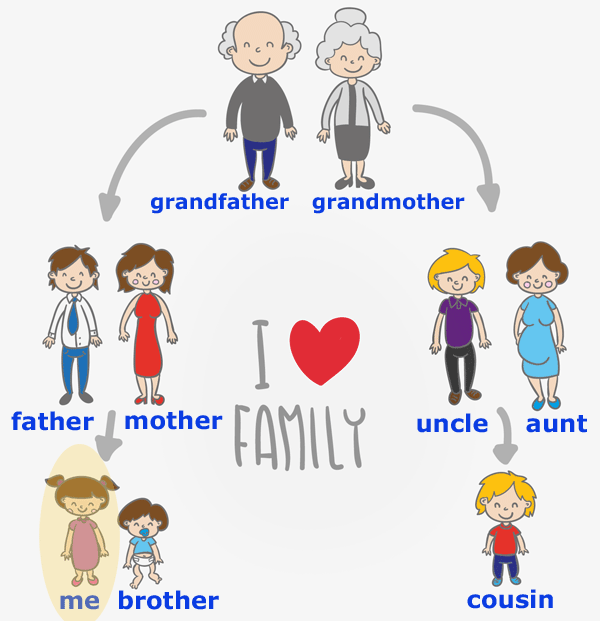 ⬤

Family members with images
---
⬤

Names of the people in a family
family
father
dad
mother
mom (US) / mum (UK)
son
daughter
parent
child
children
husband
wife
brother
sister
uncle
aunt
nephew
niece
cousin
grandfather
granddad
grandpa
grandmother
granny
grandparents
grandson
granddaughter
grandchild
relative
twin
baby
stepfather
stepmother
stepson
stepdaughter
stepbrother
stepsister
half-sister
half-brother
mother-in-law
father-in-law
son-in-law
daughter-in-law
sister-in-law
brother-in-law
single
married
engaged
separated
divorced
marriage
wedding
bride
bridegroom
---
⬤

Family members games
⬤

Flashcards
⬤ Flip cards
⬤

Family members in context
I have one brother and one sister.
My father is a dentist.
My grandparents live in Australia.
My uncle Logan has got fair hair.
Hello Pablo. This is my cousin, Carlos.
It is my aunt's dress.
Those are my children. They like playing together.
I visited my grandfather last week.
My grandparents live with us.
Have you got any brothers or sisters?
How many brothers has she got?
Is your grandfather alive?
Is Laura your niece?
Can your father look after the baby?
What is her daughter's name?
Do you have a large or small family?
Does your husband like reading books?
My family:
Hello I am Ren. I am from Japan. I live with my family in Tokyo. I have a small family. This is my family photo. This is my father on the right. He is a policeman. He likes playing games with us. And my mother is next to my father. She likes wearing casual clothes. And this is my little sister, Misaki. In fact, I have got two sisters but my elder sister is not in the picture. She is abroad. My grandparents live in Osaka. They are very old. We often visit them together with my uncle and his wife, Riko. I love all my relatives.
⬤

Family members exercises
a)
b)
c)
d)
⬤

Family members Worksheets
Family worksheets

•

Family members word scramble game worksheet

•

Family members word search puzzle worksheet
External resource links:
You can also click here to watch a video about family members or here to play a word game in British Council's website. You can also download a printable pdf document here to practice family members with flashcards.